Podcast: Play in new window | Download
Subscribe: Apple Podcasts | RSS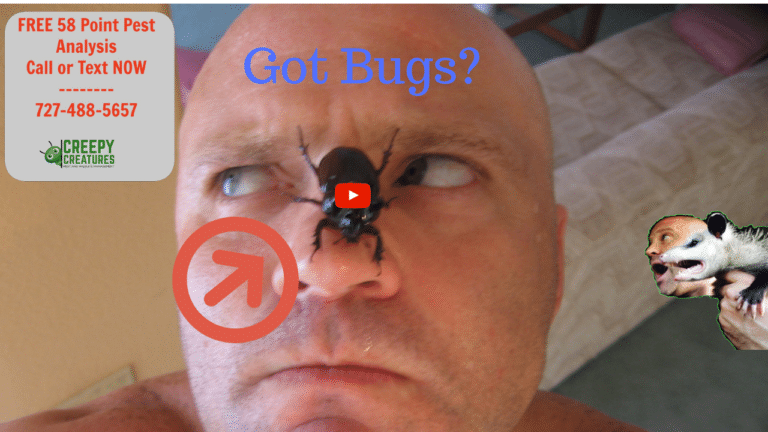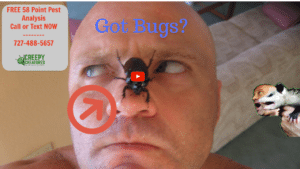 Michael Stewart
Hello and welcome to the creepy creatures Pest Control Podcast. I'm Mike Stewart, your host with pest expert Dusty Showers, the pest expert in Palm Harbor, Clearwater, Dunedin and St. Petersburg, Florida. Dusty, are you here on the show today?
Dusty Showers
I'm here, Mike. Thanks for having me.
Michael Stewart
Well, you know, I want to get a little bit of a quick introduction of Who are you how long you've been in business and what sets you apart. So, tell us a little bit about yourself and how long you've been taking care of pests in the Palm Harbor, Clearwater Dunedin & St. Petersburg area.
Dusty Showers
Well, I unofficially got my start when I was in college, and I started collecting reptiles and all sorts of unusual animals. And, and that was when I decided that I really wanted to do something like this for a living. So I started my first business back in 1992. And I ran that for a while and life was good. I decided to take a break for a few years and spend some time in real estate and when that market crashed I said, I'm going back to catching snakes. So I opened up Creepy Creatures, Inc, where we focus on pest control and wildlife issues.
Michael Stewart
All that's exciting. Well, what do you tell people that set you apart from your competition? How are you different? And tell me some about the specialties that you creepy Creatures, Pest Control take care of her residents in the area?
Dusty Showers
Well, I think that the neatest thing is I get to do what I did when I was 12. You know, I run around, finding animals figuring out what animal we're dealing with or what bug it is we're dealing with, and how to best take care of it. So I have a true interest in what I do. It's not just a business. It's something that I even even when I'm not doing my business, I'm out messing around looking for things to catch or find in what's crawling around my yard. So it's really something that I enjoy doing. One of the things I think that makes us pretty unique is you know, we're a small business and we're flexible. So when people have issues, we can react right away. And you're not just a number. We know who our customers are. And when people call us, we know who we're talking to. And we know, you know, what we need to do to make them happy in their service.
Michael Stewart
What type of treatments do you do? You know, I assume you do the basic pest control, General pest control, and I assume termites are a problem in Florida. Just list off all the different services that Creepy Creatures you provide.
Dusty Showers
Well, we deal with a lot of rats, rats are everywhere in Central Florida. So we deal with a lot of those. Of course we deal with pest control, which includes mostly things like roaches and spiders, silverfish, fleas, ticks, and other wildlife issues that might show up like squirrels and raccoons and such we find humane ways to move them into areas where they're better suited. And of course, you can't live in central Florida without having termites. So we do service, the two main types of termites that we have here, which are subterranean and drywood termites. And so we find ways that really work for the customer. We're not looking to come in and sell anyone a package. You know, we don't want to twist your arm. So you got to buy everything that we have to offer, but we look at what kind of issues you're having, what kind of issues you might be getting in the future, and show you how we can help with that.
Michael Stewart
Well, if somebody wanted to get in touch with you tell us the multitude of ways that people can get in touch with you to solve their pest problems in Florida, especially in the Palm Harbor, Clearwater, Dunedin & St. Petersburg area.
Unknown Speaker
The best way to reach us is to either call or text at 727-488-5657 text message, you always get a message back right away, but whatever people prefer call or text works for us.
Michael Stewart
And of course, you can Google Creepy Creatures Pest Control, and you'll find the website online. And of course, this podcast is going to be a service to the community to let people know what problems you solve, get to know Dusty better, and how you solve those problems. So be sure to share this podcast, be sure to subscribe to it and Apple, Spotify or Google and we'll see you next time on the Creepy Creatures Pest Control podcast with Dusty Showers.